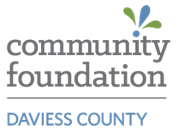 It is Giving Tuesday.  According to the website givingtuesday.org, the day is a global generosity movement unleashing the power of people and organizations to transform their communities and the world.
        The Daviess County Community Foundation has a Matching Gift Program happening today to build permanent endowments for groups serving the county.  The Foundation is matching gifts dollar for dollar with a $25 thousand cap. 
        You can give your donation at the Main Street office of the Community Foundation in Washington. You can also give online at communityfoundationalliance.org..
        Daviess County has 44 endowed funds you can give to today.