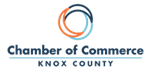 The Knox County Chamber of Commerce would like to announce the 2019 Five Under 40 recipients, an event sponsored by Old National Bank.
Five Under 40 is designed to recognize individuals under the age of 40 who have made significant impacts to our community, whether it's through their business commitments, community activism or volunteer efforts with local non-profits.
The Chamber is proud to announce following recipients:
Kaitlyn Ashby – Owner of Brush and Blush
Thomas Estabrook – Mayor of Bicknell
 McCormick Brothers – Eli McCormick, President & CEO/ Partner; Will McCormick, Director of Maintenance / Partner; Ry McCormick Director of HR & Safety / Partner – All of Bestway Express
Jenny McNeece – Assistant Editor of the Sun Commercial and Editor of the Life Along the Wabash magazine
Adam Thacker – Chief Operating Officer at Good Samaritan Hospital
These winners will be recognized during a luncheon to be held at noon on Friday, December 6 at Vincennes Fortnightly Club.
"This is a great opportunity for us to recognize individuals who have helped make Knox County what it is today.  They are the ones to who have chosen to invest in Knox County by living and working here.  They are all successful in their industries and are involved in our community," said Knox County of Chamber President Jamie Neal.
Katie Kotter, Chair of the Knox County Chamber Board of Directors states "The Chamber is extremely grateful to have them in our community and honored to be able to recognize their efforts."
Tickets for the luncheon are $15 per person.  For more information, contact the Knox County Chamber at 812-882-6440.