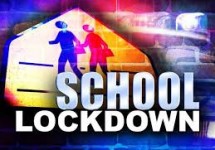 Loogootee Schools were on lockdown for a short time yesterday after what school officials said was a potential threat at the high school.
        The corporation put out notice at 1-pm that an hour earlier, at Noon, a potential threat was made by phone and officials said all threats are taken seriously.  Police were called and internal security protocols were implemented.  Classes continued on schedule during the lock down.  The building was searched and nothing was found and the threat was determined to be not credible.
        At 1:35 the corporation lifted the lock down.