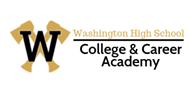 Washington High School hosted a symposium yesterday to showcase the many different career paths and hands on programs now being offered at the school. 
     Steve Peterson the Principal at WHS addressed the crowed of business leaders from the community that attended the event and unveiled the schools new careers and pathways curriculum concept. 
      Dr. Dan Roach Superintendent for Washington Community Schools was very pleased with the turn out and the first annual event, and says that Washington High School is moving with the times to prepare students for the future…
  Around 100 plus community members were on hand for the presentation.