The Washington City Council Tuesday passed an ordinance setting the budget for the City.  The budget is for over $12.2 million. The tax rate will be advertised at about $2.25 per $100 of assessed valuation. That number is advertised high and will likely come in lower.  Last year's final rate came in .35 cents lower than the advertised rate.  The budget is is on it's way to the state for their approval.
           In other action, the council passed an ordinance approving the budget of the Washington Carnegie Public Library, and rezoning 47 acres on the southwest corner of the US 50 and Troy Road to Commercial.   The Council also heard the introduction of an ordinance that would streamline the building permit process for properties in the older sections of town where lot size is smaller than today's standards.   
          The Board of Works and Safety met after the council.  The board approved a request from Wayne Schuetz to close a potion of the alley just north of the former Southwest Medical Ambulance Building on South Meridian Street.  An auction of Southwest's vehicles and equipment is being held on November 16.   Schuetz the long-time provider of ambulance service in Daviess County retired in June.  
 —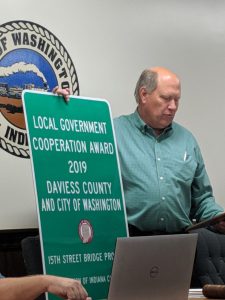 Mayor Joe Wellman also announced the City and Daviess County had received an award from the State of Indiana recognizing the cooperation on the 15th Street Bridge Project.  The bridge was rebuilt in a deal between the state, city and railroad.  It was closed for much of last year and reopened in December 2018.