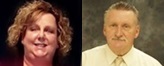 The candidates for the Mayor of Washington addressed the city last night on air on WAMW and a  crowd at Washington's High School Auditorium at a candidate forum.
        Both touted their strengths and qualifications in opening and closing statements and presented their ideas and plans in the answers to a series of questions on economic development, transportation and housing and other issues.
        Democrat Candidate and Fire Chief Dave Rhoads summed up by saying it will take continued unity to keep the city where it is financially and to create a better future..
        Republican Candidate and Board of Public Works and Safety Member Diana Snyder told the crowd that she's been working to be ready for the mayor's office if elected…
        You can listen and download last night's forum by clicking here.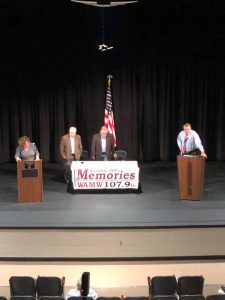 Republican Diana Snyder.
WAMW's Don Spillman and Dave Foster
Democrat Dave Rhoads prior to the start of
Mayoral Candidate Forum.