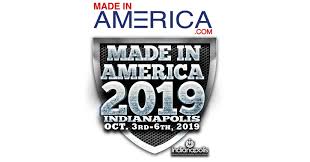 (NETWORK INDIANA)    Made in America 2019 is happening today  through Sunday at the Indiana Convention Center. Hundreds of businesses that are proven to have everything they sell made in the United States, will meet, talk about their products and learn how to work with each other to strengthen the economy.
Country singer John Rich, of Big & Rich, will be showing his own brand of whiskey, Redneck Riviera.
"I made it a point that my glass and corks and everything I do is made in America, which is a pretty rare thing. In that world, most of the glass comes from overseas," said Rich, on Tony Katz and the Morning News.
He said he believes the event is a great exercise for like-mainded business owners to meet and possibly work with each other.
"Instead of outsourcing a lot of the things you might need for your business, you might find somebody right there at this meeting, at this convention that could be a part of your business and strengthen our economy from the inside out," said Rich.
He said Big & Rich will perform a concert with Ted Nugent as part of the entertainment at the convention.