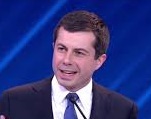 Many topics were discussed at the Democratic presidential debate Thursday night in Houston, including racism in the United States, immigration, education, and troops in Afghanistan.
South Bend Mayor Pete Buttigieg joined the discussion on stage, and says few people agree with the President on immigration.
"The only people that buy in to this president's hateful rhetoric around immigrants are people who don't know any," Buttigieg said.
He added that he has a plan in place to establish community renewal visas that will embrace immigration.
On the topic of Afghanistan, Buttigieg — who served in Afghanistan — says we need to put an end to endless war and there is no need for an open-ended ground commitment of troops in Afghanistan.
"We also have a president right now who seems to treat troops as props, or worse, tools for his own enrichment," he said.
Buttigieg also took a shot at current Education Secretary Betsy DeVos during the debate, saying the U.S. needs an education secretary who actually believes in public education.