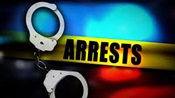 -Two Crane residents were jailed Monday for Possession of Meth and Marijuana.  Odon Police arrested 47-year-old David Bauerle and 37-year-old Jessica Bauerle on the charges.  Both were being held on $2500 bond.
-32-year-old Carrie Hayden of Washington was arrested by Washington Police on a warrant Monday for Possession of Meth.  Bond was posted.
-40-year-old Erin Dove of Elnora was arrested by Daviess County Deputies on a warrant for Theft on a Financial Instituation.  She is now also charged with Possession of a Syringe. No bond was set.