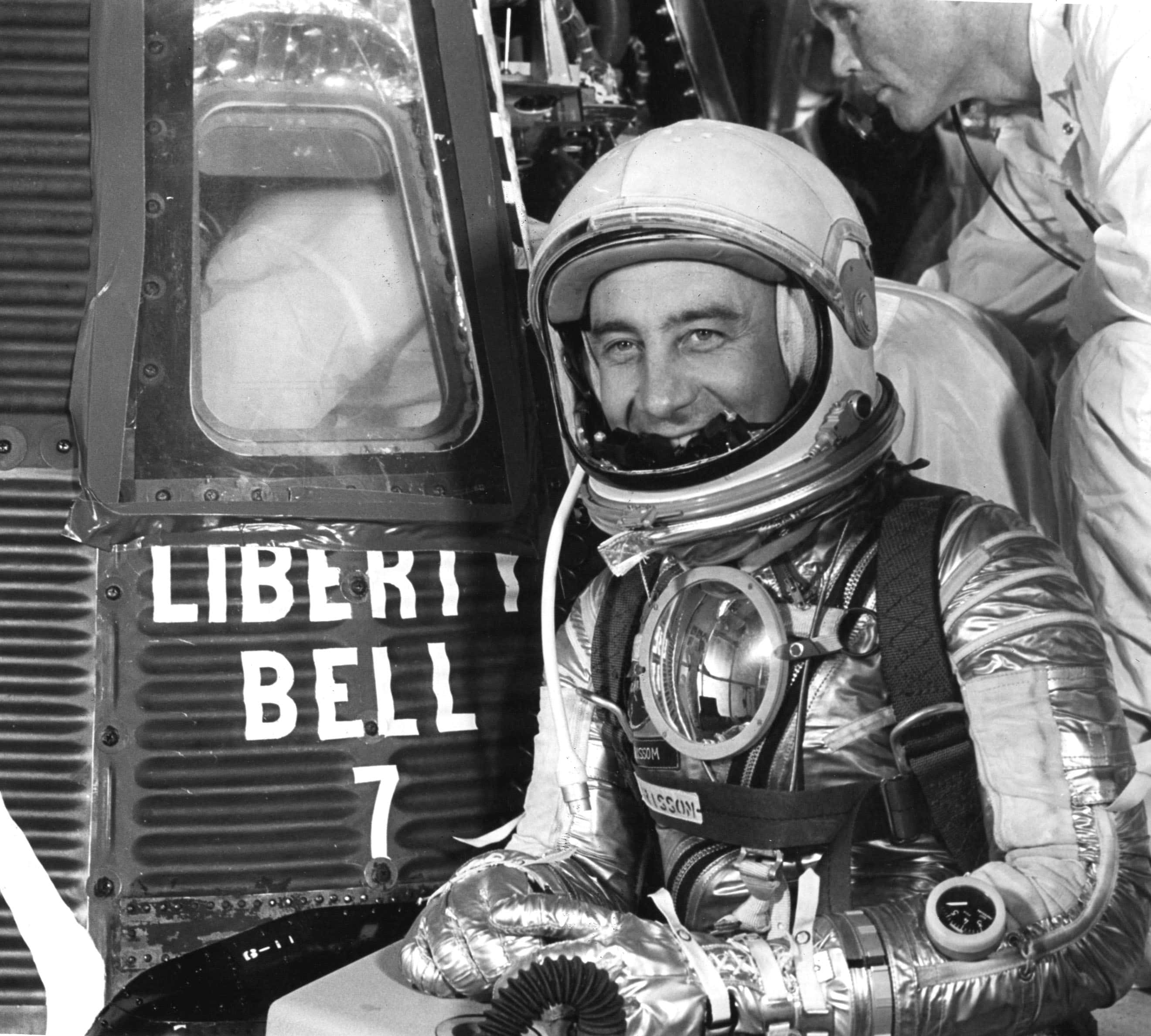 (NETWORK INDIANA)   One of Indiana's native son's gave his life on the mission that eventually put men on the moon. Virgil "Gus" Grissom died in an explosion inside the Apollo 1 capsule during a test in 1967. But, Grissom's previous missions had already made him an important part of American history.
Grissom's flight in the Liberty Bell 7 was July 21, 1961. It was a sub-orbital flight and he nearly drowned when the hatch blew too early and flooded the compartment when he hit the ocean, waiting for the USS Randolph to pick him up.
He made it out of the Liberty Bell, but his space suit took on water and he was in trouble. Grissom was finally pulled out of the water, rescued by helicopter. That chopper lost hold of the spacecraft, though. It sank, but has since been recovered.
His bravery didn't start with NASA, though. Grissom, from Mitchell, Indiana, would spend time at the Bedford Airport while he was in high school.
"Flying was still relatively new and he wanted to be a part of that at a young age," said Steven Grissom, first cousin to Gus, who has become an expert on the astronaut. "He was trying to learn as much as he could about it. His parents always said he was daydreaming, looking up at the sky."
His interests took him to the US Army Air Forces when he graduated high school. He served during WWII, but even though he wanted to be a pilot, Grissom spent most of his time as a clerk.
In Sept. 1946, he enrolled in the Purdue Engineering program.
"He started out as a pilot, served in World War II, finished his degree at Purdue, then re-enlisted, and then did a lot of test pilot operations," said Dr. Barrett Caldwell, industrial engineering professor at Purdue.
Serving again, this time in the Korean Conflict, Grissom earned his wings and a commission as a second lieutenant in the Air Force. In 1959, he was selected to become a test pilot, and then an astronaut for the Mercury mission. That also made him a star.
The next set of missions were called Gemini, included Grissom as a pilot for the spacecraft from which the first spacewalk was performed.
When the Mercury and Gemini missions were done, man had walked in space. The first space docking had been completed. Gus Grissom was to command the Apollo 1 mission. Ed White and Roger Chaffee were with him during a pre-launch test Jan. 27, 1967, when a fire broke out in the cockpit, killing all three astronauts.
Grissom's legacy has lived on through Hollywood. "The Right Stuff" portrayed Grissom during his test pilot days.
"Tom Hanks is a big Gus Grissom fan. In the movie 'That Thing You Do', Gus was on a television show in the middle of the movie," said Steven Grissom. "With 'Apollo 13' the first scene that comes on is talking about Apollo 1. Ron Howard. Another Gus Grissom fan."
The Liberty Bell 7 spacecraft was also on display for several years at the Children's Museum of Indianapolis, with two presentations.
But, Grissom's true legacy may be the passion he displayed for America and Indiana, in his missions and his sacrifice.