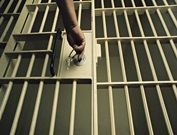 -34-year-old Stacey Beasley of Oakland City was arrested Monday in Daviess County on a Petition to Revoke a Suspended Sentence for Conspiracy to Commit Dealing and Dealing in Meth.
-34-year-old Daniel Carrender of Greenwood, IN was arrested on a warrant for Burglary and Theft.
-24-year-old Adam Robling of Elnora was arrested by Sheriff's officials Monday for Operating While Intoxicated with a BAC equal or greater than .15% and OWI with Endangerment.
-Authorities worked an accident where a vehicle hit a telephone pole. That was reported at 9:16 last night on 200-South.
-A moped and car collided just south of the overhead bridge in Washington. That happened about 1:30-pm Monday.  One person was taken to the hospital.