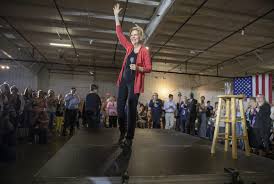 The economy and climate change dominated the discussion in Fort Wayne last night as Democrat presidential candidate Elizabeth Warren hosted a town hall on MSNBC.
The town hall was moderated by Chris Hayes who said Fort Wayne is "the heart of Trump country" in his introduction. When he introduced Warren to the crowd she talked about how people in Indiana "understand jobs" and "how to build an economy."
"People in Fort Wayne also understand that leaving it to a handful of giant multi-national corporations to build our economy just isn't working," Warren said. "They don't have any loyalty to American workers."
When the Q&A section of the town hall started the first question she was asked was about climate change. A man pointed out to her that GM is one of Fort Wayne's biggest employers and asked her what kind of impacts her proposals on solving climate change would have on those jobs.
"We've gotta know what the goal is," Warren replied. "This is what the Green New Deal is all about it. It tells us this is an emergency and it tells us what we got ahead. What there is going to be is a lot of change, but that is how America has always flourished."
When asked how she would work across the isle with Republicans, Warren said she believes in "working isle when that lets us get things done." Healthcare was a sticking point for her saying "I will not compromise when it comes to healthcare."