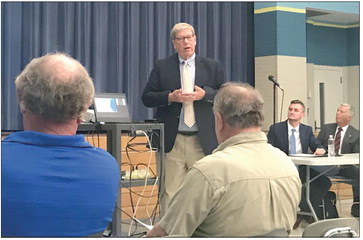 (photo from Washington Times Herald)  
        Citing a growing population, the Washington Community School Corporation held a work session last night informing the public of options on future building projects.
        About 40 turned out according to the Washington Times Herald.  They consisted of school patrons, teachers and school officials. 
        Financial Consultants, Baker Tilley Municipal Advisors presented three options involving a new building for grades 6 through 8 or possibly 5 through 8.  Another option was a school plus an auxiliary gym, field house and football stadium.  Another option had a gym included which was estimated not to be large enough for a school of just under 1000 students.
        Tax rate scenarios presented showed changing rates of 35 to 68-cent rate hikes depending on what option is chosen.
        A preliminary determination hearing is slated for next Thrusday June 13th at 5pm at the corporation office.