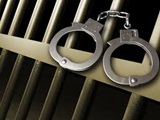 Monday, Vincennes Police arrested 25 year old Grant Austin Kepner on charges of Domestic Battery and Resisting Law Enforcement.   He was booked into the Knox County Jail at 9:52 p.m.
At 11:30 p.m. Monday, 35 year old Michael Gilmore was booked into the Knox County jail after his arrest by the Vincennes Police Department.  Gilmore faces charges of Possession of Methamphetamine, Possession of a Syringe, and Possession of Paraphernalia.
The Daviess County Security Center reports that early  this morning, the Indiana State Police arrested 36 year old Michael A. Jones of French Lick for Operating a Vehicle While Intoxicated, and Endangerment.  Jones is being held in the Security Center on a $2,000 bond.