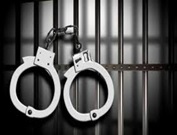 -A Linton man was arrested on Tuesday on several charges. The Daviess County Sheriff's Department charged 57-year-old Terry House with Public Intoxication, Disorderly Conduct and Possession of Paraphernalia.  Bond was set a $2000.
-Joshua Hasler, 38 of Elnora was picked up on a Failure to Appear warrant for Residential Entry. Bond was set at $2500.
-City Police arrested Brian Siler of Robinson, Illinois on Tuesday. He's charged with Operating While Intoxicated Refusal, Possession of Paraphernalia, and Possession of Meth.  No bond was set.
-Loogootee Police report they arrested 28-year-old Weylan Keasling of Loogootee yesterday. He's charged with Battery, Public Intoxication and Resisting Law Enforcement.
 Other police reports…
-Authorities worked an accident on 100-North and 350-East at 2:46pm Tuesday.
-A motorist reported hitting a bull. That was reported at 11:30 last night and it happened at 900-East and 300-North.