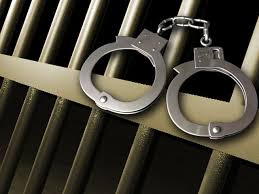 -A Washington Police investigation resulted in charges of Possession of a Controlled Substance, Public Intoxication and Possession of Paraphernalia.  Bond was set at $2000 for 39-year-old Kenneth W. Morrow of Washington.
-31-year-old Terrance A. Ward and 33-year-old Tara S. Ward both of Washington were arrested by county officers for False Informing. Bond was posted.
-Washington Police served an arrest warrant on 29-year-old Ciarra S. Rucker of Washington on Thursday.  She was wanted on an Out of State warrant. 
-The Daviess County Sheriff's Department arrested 27-year-old James W. Mischler on a warrant Thursday.  He was wanted on a Petition to Revoke a Suspended Sentence for Battery and Resisting Law Enforcement and for a Home Detention Placement Violation.
-A Vincennes woman was jailed on a warrant for Failure to Appear for Driving While Suspended.  Bond was set at $3000 for Heather R. Kail.
-A semi lost its trailer at about 6:30 Thursday morning at US 50 and 900-east. Traffic was backed up until the semi could be moved from the road.
-A motorcyclist was at the DCH ER yesterday morning at 7:33 after an accident on Sunnyside Road.
-A vehicle was reported in a ditch on Elnora Street in Odon at 10:38-am Thursday.  There were no injuries.
-There was a property damage accident between West Walnut and Vantrees at just before 4-pm.