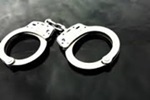 -A Washington man was charged with Neglect of a Dependent on Sunday.  26-year-old Casey B. McCracken was arrested by Washington Police.  Bond was posted.
-Two people were arrested when police were called a domestic dispute at the Pines Apartments Parking Lot on Meridian Street at 7:12 last night.  48-year-old Christina L. Johnson and 28-year-old Steve A. Corralez of Washington were charged with Battery Resulting in Bodily Injury on Sunday.  No bond was set.
-Authorities worked a two vehicle accident Sunday morning just before 7. It was reported from Northeast 3rd and East Flora. There were no injuries.
-Fire and Police units responded to a fully involved garage fire at 2:46-pm Sunday on Bent Avenue.  There were no injuries.
-There was a drive off reported at the Circle K across from Mason's last night.  A motorist drove away without paying for $75 in gasoline.