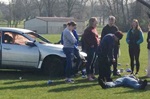 (photo from the 2018 Project Safe Prom)
        A program that's been a strong deterrent for high school students not to drink or use other substances that inhibit driving will be held again tomorrow in Washington.  The program also meant to just plain remind kids to drive safe.
           Project Safe Prom will be presented at the Washington Football Field at North Elementary tomorrow morning and the public is welcome.
             The scenario is a mock accident that takes place on prom night involving prom goers. It's complete with local police, fire and EMS services and a helicopter. 
              Indiana State Policeman Gary Weir says that the performance includes a mom reacting to the tragedy involving a daughter…
           Once again, Project Safe Prom is at 10-am Wednesday