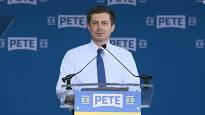 "My name is Pete Buttigieg. They call me Mayor Pete. I am a proud son of South Bend, Indiana. And I am running for President of the United States."
He made that announcement in front of about 10,000 people at Studebaker Building 84 Sunday afternoon, which quickly filled up around 1:30. People who didn't get in were being directed to a different part of the building to watch on a screen.
He hopes to become the first openly gay and youngest U.S. President. He is also a veteran who served in Afghanistan.
"Up until recently, this was not exactly what I had in mind either for how I was going to spend my 8th year as Mayor and my 38th year in this world. But we live in a moment that compels us each to act," Buttigieg said.
He said growing up in South Bend, a city that struggled and recovered from economic disaster, taught him many lessons. Buttigieg talked about the collapse of the Studebaker Auto Company in 1963 and how that affected families.
"I ran for Mayor in 2011 knowing that nothing like Studebaker would ever come back, but believing that we would, our city would if we had the courage to reimagine our future. South Bend is back," Buttigieg said.
He called "Make America Great Again" a myth being told to rural and industrial areas by President Trump, because it was never really great to begin with. He said it's time for a new generation of politics. Buttigieg told the crowd that politics in the U.S. feels confusing because "we're on a blank page where things are ready to change."
Buttigieg said climate change and climate disruption "may be the greatest security issue of our time."
Buttigieg raised more than $7 million in the first quarter of 2019 and has placed third in recent weeks in multiple polls of Democrat voters in Iowa.