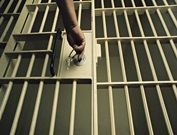 The Dubois County Sheriff's Department is asking for help from the public in locating a silver 2003 Chevrolet Tahoe that was taken from the St. Anthony area.
The Dubois County Sheriff's Department says the Tahoe was believed to be stolen from the area of 5870 East County Road 650 South near St. Anthony.
The truck's license plate number is AAK301 and is believed to be on the vehicle.
Anyone with information concerning this truck is asked to contact the Dubois County Sheriff's Department at 812-482-3522
Tuesday, the Indiana State Police arrested 22 year old Gennaro Penn of Indianapolis. Penn was booked into the Daviess County Security Center for Operating a Vehicle While Intoxicated with a Controlled Substance. He was released on a $2,000 bond.
And Washington Police Officers arrested 70 year old Dewey Welborn of Washington for Driving While Suspended with a Prior Conviction. His bond was set at $2,000.