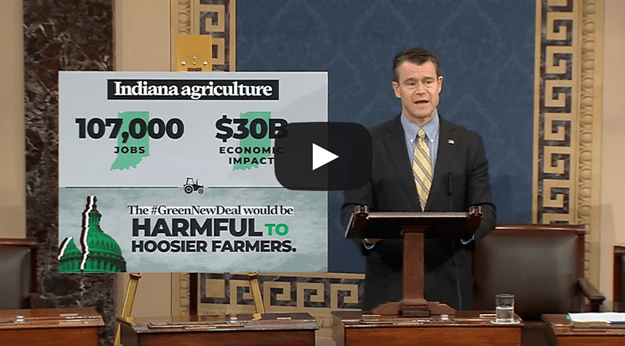 Fighting the "Green New Deal" has become a focus for Sen. Todd Young (R-Ind.) in the past few weeks. His speech on the floor of the U.S. Senate, cited letters from Hoosiers, who wrote to Young asking him not to support it.
"I heard from Patrick in Bloomington, 'I hope you won't give this idea a second thought.'"
The Green New Deal is a plan to reduce emissions from gas and diesel-powered cars and trucks, simply but eliminating them by the year 2030. It's a resolution in the Senate, one which Majority Leader Mitch McConnell said he'd be happy to take to the floor for a vote.
Democrats who support it saw that as a move to destroy it in the Republican-controlled Senate.
Young said the reason he cannot support it is that it would cost Hoosier jobs.
"Imagine the crushing cost to Hoosier farmers of changing out all farm equipment for electric vehicles, or the cost of upgrading every single building on every farm in Indiana," said Young, noting that agriculture is a key part of the state's economy.
"This bad deal would force the cost of doing business to skyrocket for Hoosier manufacturers and farmers, which would mean higher prices for consumers and less money in the pockets of hard-working Hoosiers."
Republican senators are expected to force a vote on the "Green New Deal" before the month is out.