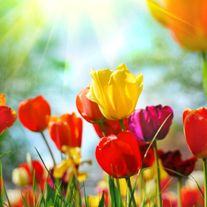 Alice Lloyd Wildman age 99 of Shoals, passed away March 11, 2019 at the Loogootee Nursing Center.
She was born March 8, 1920 in Martin County to Frank and Kathryn (Fawcett) Sherfick. She married Wilmer Wildman on July 11, 1936 and he preceded her in death on June 12, 1986.
She attended Trinity Springs Church of Christ, retired from Sarkas Tarzan in Bloomington and Wavetech in Beech Grove. She loved sitting on the front porch enjoying nature, gardening, the outdoors, was an avid mushroom hunter and was a State Champion Quilter, competing in the State Fair.
Survivors include, Warren L. Wildman of Trinity Springs, Wilma K. Tirmenstein (Don Hauser) of Indianapolis, Leslie E. "Les" Wildman of Trinity Springs; four grandchildren and six great-grandchildren.
Preceding her in death are her brothers, Kenneth Sherfick, Herbert Sherfick; sisters, Mary Johnson and Dorothy Bough.
Services are 1:30pm Friday at the Queen-Lee Chapel in Shoals with Warren Lee Wildman Jr. officiating. Burial will be in the Trinity Springs Cemetery. Visitation is 11:30am Friday until the time of service.
Memorial donations may be made in leu of flowers to the Trinity Springs Church of Christ.
The Queen-Lee Chapel of the Thorne-George Family Funeral Home is in charge of the arrangements.
To send flowers or a memorial gift to the family of Alice L Wildman please visit our Sympathy Store.