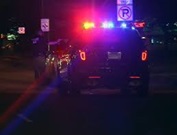 Troopers arrested 3 impaired drivers Friday night and early Saturday morning in Pike and Knox Counties during a Saturation Patrol.  One driver arrested early Saturday morning had a blood alcohol content of .44%, which is over five-times the legal limit.  She was 35-year-old Rachelle Atwood of Vincennes jailed in Knox County.  Also arrested in Knox was 31-year-old Brittancy Carter with a BAC of .12%
    Arrested in Pike County was 29-year-old Wayne Wedding of Oakland City who tested .16% BAC.
          State Police say they will continue to conduct saturation patrols to target impaired and dangerous drivers. Just last month, preliminary reports indicate that 404 alcohol-related crashes occurred on Indiana roadways resulting in 128 injuries and one fatality.