Daviess Community Hospital Foundation Board members and DCH Executive Team members recently received donations for the hospital's Oncology Project.
        The local Moose Lodge and DCH Auxiliary have both donated $25,000.  Both organizations will have an exam room in the new clinic spaced named in their honor.  Another donor has stepped forward to claim a third room in the newly renovated space. 
        The DCH Foundation has raised over $200,000.00 toward its goal of $300,000.00 to get the new oncology center up and running.   To learn more about the capital campaign or to donate to the project, contact Angie Steiner at 812-254-8858 or asteiner@dchosp.org.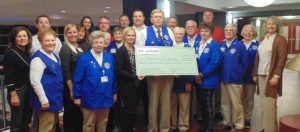 DCH receives donation from DCH Auxilliary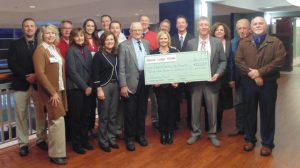 DCH receives donation from Moose