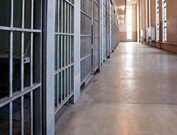 -18-year-old Alex Jorelus of Washington was arrested by the Sheriff's Department for Operating While Intoxicated with a Controlled Substance and with Endangerment, for Operating While Never Licensed and Leaving the Scene of an Accident.  Bond was set at $2000.
-Sheriff's Deputies served an arrest warrant for Burglary on 21-year-old Gens Jorelus of Washington yesterday. Bond was set at $100,000.
-37-year-old Janessa R. McCracken was booked in on a Petition to Revoke a Suspended Sentence.  Bond was posted.
-Washington Police arrested 54-year-old Timothy M. Coleman of Vincennes on a warrant for Failure to Appear on a Drunk Driving Charge.  Bond was posted.
-Loogootee police arrested two for Possession of Marijuana, Invasion of Privacy and Neglect of a Dependent.  20-year-old Kailey B. Meadows of Loogootee and 23-year-old Ryan J. Sipes of were booked into the Martin County Jail.
Jail population:169.