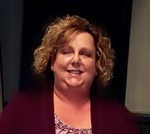 Diane Snyder, current Executive Director of Daviess County Community Corrections, stood on the steps of Washington's historic City Hall Tuesday afternoon to announce her candidacy for Mayor of the City of Washington.  Snyder told the crowd of friends, family, and supporters that she feels her current job and her experience on the Board of Public Works and Safety has prepared her to be Mayor.    The candidate says she wants to work to bring economic opportunity to Washington.
      Snyder is the first female candidate ever for Mayor of Washington.
       Last month,  Washington's Mayor, Joe Wellman, announced he would retire at the end of his current term, opening a vacancy on the 2019 ballot.   Snyder's announcement leads into  Indiana's early February deadline for candidates to file for the municipal primary election.