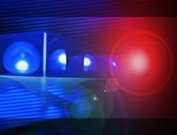 -Washington Police were dispatched to 1000 South Meridian at almost 4-pm yesterday where a two car accident had been report.  Upon investigation,  71-year-old Ronald Ray of Washington was charged with with two counts of Operating While Intoxicated including with Greater or Equal to .15% and with Endangerment.  Bond was set at $2000.
-The Daviess County Sheriff's Department picked up 53-year-old Michael McAtee of Washington Monday on a Home Detention Placement Violation.
-No injuries occurred when Washington Police, the Daviess County Sheriff's Department and Washington Township Fire Department were sent to 12 West Illinois Street at 8:23pm last night.  A fire was reported at the address and was found to be contained to a kitchen stove.  Police logs indicate a Washington policeman, who arrived first, used a fire extinguisher to douse the fire.  Utilities were shut off to the residence and authorities were on scene for about a half hour.
-Police were called to a Dewey Avenue home at 5:55-pm last evening to investigate a reported Breaking and Entering.  Police found a door had been tampered with and some items had been stolen from the residence.
-A vehicle hit a mailbox and left the scene on Brett Cable Road. That was reported yesterday at around Noon.
-A vehicle slid into a ditch on Troy Road at 150-South at 10:12 am yesterday.  There were no injuries.
-An Odon resident made a report Monday morning of a break-in on a personal and work vehicle.   A list was made of items stolen from both cars and police are investigating.