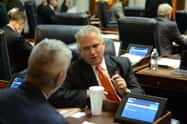 Organization Day at the Statehouse
Tuesday, I took the oath of office, beginning a new term as the State Senator representing District 39.
Following the formal swearing-in ceremonies, the Indiana General Assembly convened for the first time leading up to the 2019 legislative session.
Organization Day, as it's commonly called, provides legislators an opportunity to meet with other lawmakers and staff to discuss legislative topics. The 2019 legislative session will reconvene Jan. 3 and, by law, must end no later than April 29.
During the upcoming session, lawmakers will craft the state's next two-year budget, which will fund all state government services.
To stay informed as the legislature considers new laws, visit iga.in.gov. On this website, you can stream committee hearings and session meetings and view legislative calendars, agendas, vote tallies and proposed legislation.
As your Senator, I value your input as I participate in policy discussions at the Statehouse. Contact my office with any questions, concerns or comments you may have by email at Senator.Bassler@iga.in.gov or by phone at 800-382-9467.