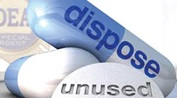 The 16th annual nationwide Prescription Drug Take Back Day is Saturday.
        Indiana State Police have partnered with the Drug Enforcement Administration for the initiative.
        Collections sites will be everywhere including all Indiana State Police Posts.
        Locally drop off sites this Saturday are located at the Washington Fire Department on Harned Avenue and the Odon Police Department.    Angela Quast is with the Washington Wastewater Department…she tells us what is being accepted…
        Quast says simply throwing the materials away can cause harm to others and the environment…
You can drop of the unwanted or unneeded drugs from 10 to 2 Saturday again at the Odon Police Department and the Harned Avenue Fire Station in Washington.