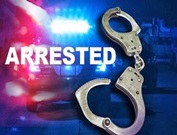 Today at 1:53 a.m in Gibson County an officer clocked a vehicle traveling Southbound in excess of 105 mph on Interstate 69.  Upon catching up to the Silver 2012 Volkswagon Jetta, the driver was identified as  22 year old Francisco Rodriguez Hernandez of Washington.  He was taken into custody and transported to the Gibson County Jail charged with Reckless Driving and has since posted a $900 bond.
-A Washington man was arrested by the Sheriff's Department Wednesday on Possession charges.  23-year-old Ronald c. Reed is charged with Possession of a Hypodermic Syringe and Possession of Meth.  NO bond was set.
-Deputies picked up a Huntingburg resident on warrant for a Petition to Revoke a Suspended Sentence for Possession of Meth.  Bond for 39-year-old Mindy A. Rueger was set at $10,000.
-Washington City Police arrested 39-year-old Elsa Madrigal of Washington Wednesday on an Out of State Warrant.  No bond was set.