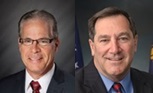 The two candidates for US Senate have picked up some endorsements.
       One of the largest business organizations in the U.S. is endorsing Republican Mike Braun in the Indiana Senate race.
          The U.S. Chamber of Commerce announced Tuesday that it was backing the businessman and former state lawmaker, who is challenging Sen. Joe Donnelly
The group but did not address how much they will spend to help Braun.
The group spent at least $3.7 million backing GOP Sen. Todd Young against Democrat Evan Bayh in 2016.
          Meanwhile, Democrat Incumbent Donnelly is being endorsed by REALTORS, a Political Action Committee of the National Association of Realtors.  Brian Thompson of Bloomington is Chair of the RPAC Trustees, he says the Senator has a long record of supporting home ownership and private property rights.
        RPAC, is the largest trade association Political Action Committee in the United States. They say they follow strict guidelines to ensure that candidates are supported based on their support for issues affecting the real estate industry and not party affiliation.