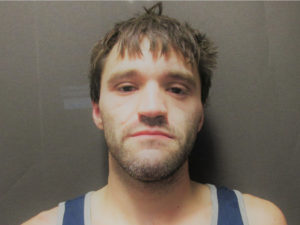 The Town Marshal in Dugger was injured when a suspect resisted arrest.
        30-year-old Corey Camden of Dugger has been charged with Resisting and Battery on Law Enforcement as well as drug crimes.
        The incident happened on Tuesday at 5:35-pm when according to reports,  a Sullivan County Deputy witnessed the passenger of a pickup duck down while traveling on  State Road 54.   The truck then pulled into a driveway and the passenger, identified as Camden, got out and ran. 
        There was a short chase and Camden was caught.  The Dugger Town Marshal was there and sustained cuts to the hand as authorities say Camden starting kicking and striking the marshal. 
        Camden was subdued and taken to the Sullivan County Jail.