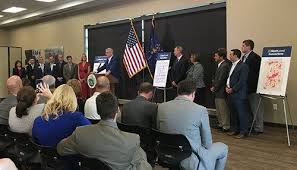 (NETWORK INDIANA)  Higher tolls for trucks on the Indiana Toll Road will pay for a billion dollars in infrastructure projects.
Tolls for passenger vehicles won't be affected, but trucks who travel the Toll Road end-to-end will pay an extra six-to-34 dollars, depending on how big they are. 600-million dollars of that will be used to connect the southern half of I-69 to Indianapolis by 2024, three years ahead of schedule.
The Bloomington-to-Martinsville leg of the highway is expected to be complete next week.
Another 190-million will pay for improvements to three northern Indiana highways. The state will repair bridges and resurface parts of U-S 20 and 30. And INDOT will create new exits on U-S 31 in Peru, Argos, southern Miami County, and the Hamilton-Tipton County line. When those projects are complete, two stoplights in Miami and Howard Counties will be the only ones remaining on 31 between Indianapolis and South Bend.
Governor Holcomb says the money will also create a 100-million-dollar grant program to expand broadband access to rural portions of Indiana, and a 90-million-dollar grant fund to add more hiking, biking and riding trails. And 20-million dollars will go to the state's ongoing efforts to add more nonstop international flights out of Indianapolis. Indy's first nonstop transatlantic service, to Paris, began in May.
The Toll Road is allowed to raise tolls by two-percent a year or by the rate of inflation. The state struck a deal with the company which operates the toll road, allowing the larger increase in exchange for the state receiving a billion dollars of the new money over three years. The Indiana Toll Road Concession Company Board will formalize the agreement later this month. The administration isn't disclosing how much the company is expected to clear after giving the state its share.