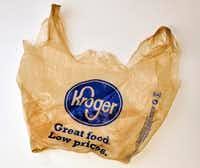 Kroger is planning to do away with single-use plastic bags for your groceries.
Spokesman Eric Halverson said it's part a new part of an existing anti-hunger campaign from Kroger called "Zero Hunger. Zero Waste." He said over the next decade you'll see less and less plastic bags in Kroger stores across Indiana.
"We want to take plastic bags that might end up on the side of the road and recycling them," Halverson said. " Or better yet, encourage people to do more with reusable bags and eliminate them altogether."
Halverson said you can buy these reusable bags for a low as a dollar, depending on the type of bag you buy. He adds that all the proceeds from buying these reusable bags goes towards local food banks.
The initiative has already taken hold at Kroger stores in portions of the Pacific Northwest. Halverson said they plan to watch and study how customers respond to the plan in those areas, as they slowly phase it in in Indiana stores. Kroger hopes to be completely plastic bag-free by 2025.
Kroger, based in Cincinnati,  is the nation's largest grocery chaing and operates 2,779 stores in 35 states and the District of Columbia, serving almost 9 million people daily.  Their family of stores does include local Jay C Food Stores.