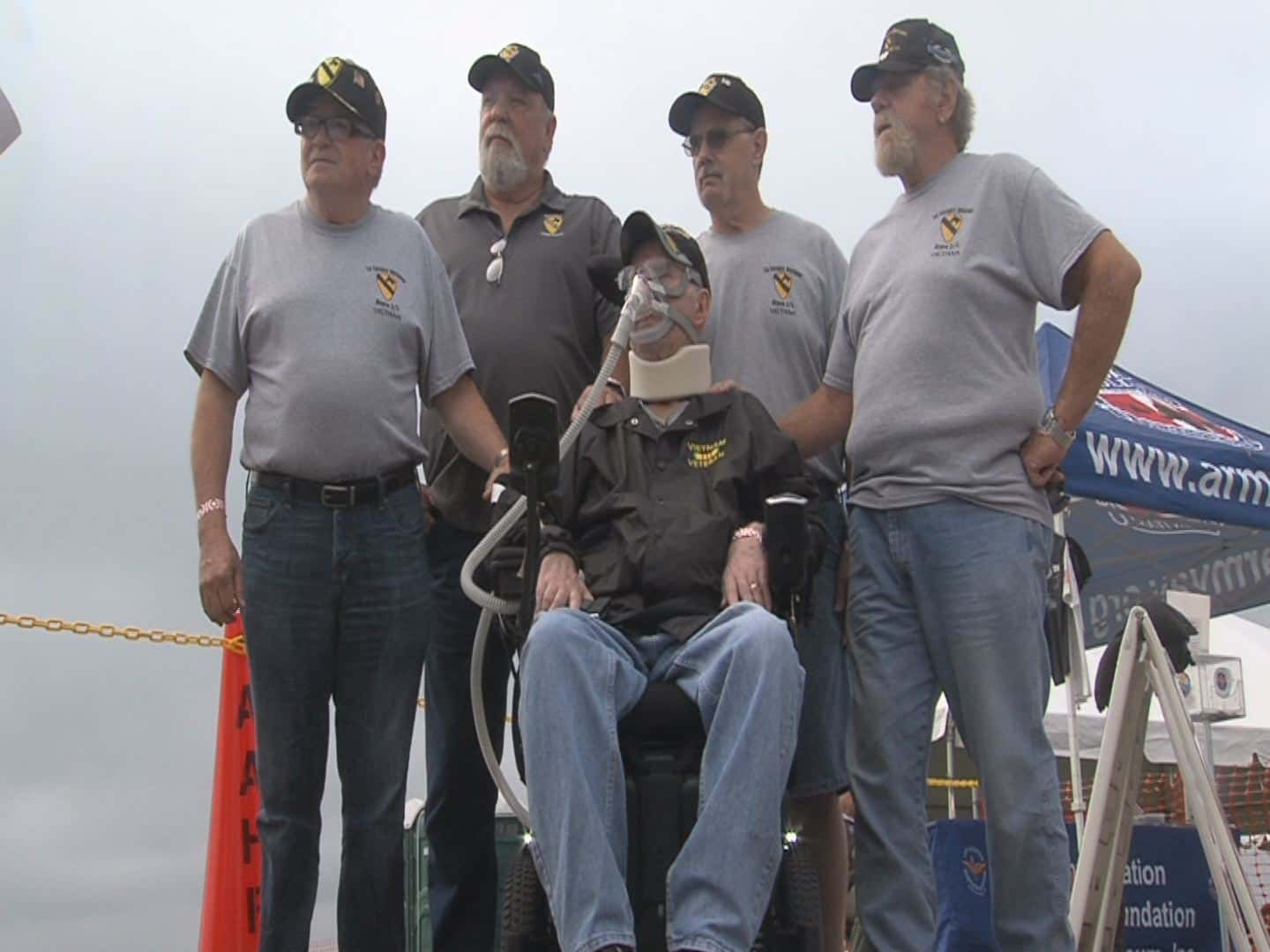 (photo from WTHI)
(AP) — A Vietnam War veteran from western Indiana had his last wish fulfilled by his reunited Army comrades, who flew in the Terre Haute Air Show.
Ken Dierdorf died this week, just days after his debilitating illness prevented him from flying in a military helicopter with the men who fought alongside him, the Tribune-Star reported . He was 68.
Dierdorf's health had been in steady decline since 2010 when he was diagnosed with Lou Gehrig's disease, which attacks nerve cells that control muscles throughout the body. The illness, also known as amyotrophic lateral sclerosis, or ALS, led Dierdorf to eventually require a full-time respirator to aid his breathing.
The Dierdorfs reached out to the Visiting Nurse Association and Hospice of the Wabash Valley earlier this year to see if they could get a Bell UH-1 Iroquois "Huey" ride for the Dirty Half Dozen, a group of Vietnam War veterans comprised of Dierdorf and his friends. VNA Hospice Care arranged a flight with the Army Aviation Heritage Foundation's Huey at the air show.
Even though Dierdorf couldn't ride in the Huey last weekend, reuniting with his fellow military friends and watching them experience the flight fulfilled his last wish, said Kim Dierdorf, Ken's wife.
"He talked about it nonstop since Saturday," she said. "And even though I know it took a lot out of him, I think because it was his last hurrah that he really, really wanted to do, I think that once that was able to happen for him he knew he didn't have to fight any longer."
Ken Dierdorf getting his last wish fulfilled is fitting for someone so kind and full of life, said Gil Edgington, one of the Dirty Half Dozen friends.
"It was all in God's plan," said Edgington, 69. "It meant so much to us, in his passing, that while it's a shock we know that he's not suffering anymore."
___
Information from: Tribune-Star, http://www.tribstar.com