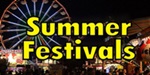 Odon Old Settlers continues at Odon Park today.
        The Pet Parade is at 1, there is a Cruise-In and Car show at 2.  A corn hole tourney starts at 5 with registration at 4.   Officials say there's $400 in prize money available.  The baby show is at 6:30 with registration starting at 5:30.  The live music is from the band Sideline.  The festival is put on by the Lions Club in Odon and spokesman Bart Neiswanger reminds us that's free..
   Also tonight, the carnival rides will open at 5 at Odon Park for Old Settlers.
---
Food, music and more are all a part of the annual Watermelon Festival in Vincennes.
        Today, there's a baby/toddler contest at 10, Heath Eric and Molley G perform their music at 1:30, the seed spitting contest in at 3:30, a pet contest at 4:30 and the Miss Watermelon Pageant is at 5. Needless to say there's lots of free watermelon to eat.
        The Watermelon Festival is put on by the Knox County Chamber of Commerce.
---
It's a full day at the Jasper Strassenfest today. 
        Strassenfest Chair Mike Ackerman…
        Lots of Polka music today too. For a full schedule go to https://jasperstrassenfest.org/.
---
        The Zoar Mosquito fest goes on today in Holland along Old, Old State Road at the Dubois/Pike County line at the Zoar United Methodist Church and picnic grounds.  There's food, sports tourneys, a flea market, entertainment and much more.