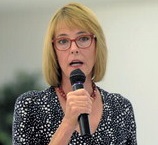 (photo of Lt. Gov Suzanne Crouch speaking at symposium from the Washington Times Herald)
No crisis is affecting rural Hoosiers more than opioid addiction, that was a comment from Lt. Governor Suzanne Crouch at a daylong symposium on opioid addiction held at the East Side Park Community Building Tuesday.
The Washington Times Herald says about 50 people attended.
        In addition to state officials, local leaders who know the problem all too well were also there to learn and contribute to working to help those affected by addiction in every way.
        Daviess County Purdue Extension Director Jane Ann Beard was quoted as saying families from all walks of life are being touched by opioid addiction and a sense of community is building that demonstrates everyone is in the battle together.
        Daviess County Chief Deputy Gary Allison says networking between local and state people and agencies is taking place to see what is and isn't working and symposiums and events like yesterday's he says will hopefully get things going in a community to battle the addiction crisis.