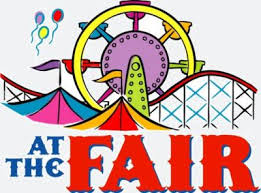 The Knox County Fair starts today.
        Rabbit and Poultry judging was on the schedule at the Show barn this morning.   This evening is opening ceremonies with a flag raising ceremony at 6.  The Knox County Fair Queen Contest is at 7 at the VU Pavilion.  In the grandstand tonight it's a tractor pull at 8.
        The Martin County fair started over the weekend, and continued today with a Horse and Pony show this morning.  At 5 is a cookie stacking contest, watermelon seed spitting at 5.  There's a swine show at 6 tonight and the carnival is happening from 6 to 10.
                At the Daviess County 4H show at East Side Park in Washington there's a poultry show at 2, a sheep show at 7.