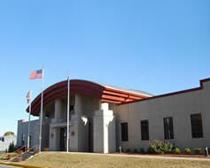 Clay County, Indiana is home to the state's only holding facility for people being held by U.S. Immigration and Customs Enforcement was paid more than $1.2 million last year to house and transport detainees.
The (Terre Haute) Tribune-Star reports that Clay County has become a major service provider for ICE at a time when the country is debating the Trump administration's zero tolerance immigration policy.
County Sheriff Paul Harden says the 176-bed Justice Center was overbuilt for the county of 26,000. County officials say the agreement to house ICE detainees using open-bed space generates upward of $1.3 million annually for its general fund, most of which officials say goes back into jail operations.
Harden says politics has nothing to do with the program and that it is money coming to the county.
___