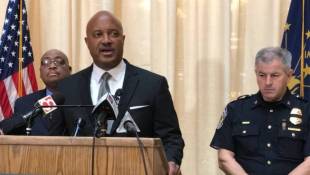 — Another woman who says Indiana Attorney General Curtis Hill inappropriately touched her has come forward, citing the courage of a state lawmaker who earlier went public with her story, as well as Hill's refusal to resign.
Gabrielle McLemore, a spokeswoman for the Indiana Senate Democrats, told The Associated Press on Friday that the Republican approached, asked "Do you know who I am?" and cornered her at a bar after the state legislative session came to a close in March.
She said he proceeded to massage her back, while she worried what people who witnessed it would think. Eventually she mouthed the words "help me" to her intern, who interjected by asking McLemore if she wanted to go to the bathroom.
McLemore said she never wanted to come forward. But she said Hill's repeated denials were frustrating.
She also wants to set an example for other women so "they don't feel they have to hide, so they don't feel they did something wrong."
 Meanwhile, Governor Eric Holcomb has ordered an investigation into Indiana AG Curtis Hill by the state inspector general, but Hill has a different idea.
In a statement, Hill is calling for an independent investigation of the sexual harassment allegations against him, which he says a vicious and false. Hill goes on to rip Governor Holcomb, since he is asking for his resignation, while also appointed the inspector general who is investigating the claims.
He adds: "Once the investigation is complete and I am exonerated, I would hope that my good name is properly restored with the same vigor with which it has been tarnished."