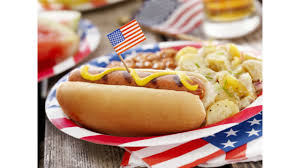 This year, Hoosiers hosting an Independence Day cookout featuring some of America's favorite summer foods—hot dogs, cheeseburgers, ribs, watermelon and more—can expect to pay a slightly more than $5 per person for the meal, according to an annual survey from Indiana Farm Bureau. That's five percent less than the national average.
INFB's informal survey showed that the average cost to feed 10 people at a cookout in Indiana this summer is $52.14 or $5.21 per person. This represents a minimal increase from 2017 and 2016.
The Indiana survey results are included in the nationwide survey coordinated by the American Farm Bureau Federation. The national survey showed the average cost of a summer cookout across the county for 10 people is $55.07, or $5.50 per person, five and a half percent higher than the Indiana average.
"Hoosier families planning to gather together for a meal and celebration this Fourth of July will be pleased to hear that grocery store prices on traditional cookout foods remain affordable, and below the national average," said Isabella Chism, INFB 2nd vice president and chair of the Women's Leadership Committee. "A traditional cookout with hamburgers, hotdogs and ribs will only cost shoppers about $5 a person."
The summer cookout survey was conducted in mid-June by 20 volunteer shoppers all across the state who collected prices on specific food items from one of their local grocery stores. The shopping list included ground beef, hot dogs, hot dog and hamburger buns, pork spare ribs, American cheese slices, baked beans, potato salad, corn chips, prepared lemonade, chocolate milk, ketchup and mustard.
This year, the most notable increases in local prices came from beverages and condiments including pre-mixed lemonade and ketchup. Watermelon, pork spare ribs, hot dogs and pre-sliced cheese also saw an increase in price. AFBF's director of market intelligence, John Newton, explained how a record milk production is impacting cheese prices.
"While fluid milk prices have declined, tighter stocks of American cheese contributed to slightly higher cheese prices, Newton said.
The price of hot dog and hamburger buns and potato salad declined in Indiana this year. The price of ground beef, baked beans, corn chips and mustard remained relatively flat.