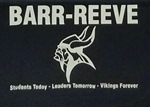 The Barr Reeve School Board explained a planned building project and took comments at a public hearing last night.
        Some of the plans include building new classrooms, converting the old gym into classrooms, building a new gym and locker rooms, taking out the stage in the cafeteria at the elementary to add seating, and replacing HVAC systems.
The Washington Times Herald is reporting today that most of last night's public hearing consisted of an explanation of the project and how it the financing works.  Officials reported a 9 cent increase to the tax rate.
        Another hearing on the public hearing project is July 10th.  No decisions have been made to move forward.