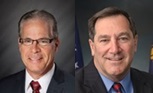 Republicans nominated wealthy Indiana businessman Mike Braun Tuesday to take on vulnerable Democratic Sen. Joe Donnelly in November.  Braun won the Indiana Senate primary over a field that included two sitting congressmen, Todd Rokita and Luke Messer. Braun from Jasper is the  multimillionaire owner of a national auto parts distribution business who was highly critical of Trump throughout the 2016 general election. He has since come around, suggesting the president should be nominated for a Nobel Peace Prize while praising the "Trump agenda" .  Braun put in millions of his own fortune to win the primary. Braun easily took every county in the WAMW listening area.
Braun has already started the fall campaign…
Democrats are already responding in kind, with an online ad using clips of Rokita blasting Braun's statehouse votes for a gas tax hike.
 In the 8th Congressional District,  incumbent Republican Larry Bucshon easily won the nomination district wide to go against challenger, Democrat William Tanoos in November.
        For State Representative  in District 63, covering parts of Daviess, Martin, Dubois and Pike Counties, Democrat Joe Lannan of Loogootee won with 74% of the District vote to face incumbent Republican Shane Lindaur in the fall.
        In District 64, the son of former 8th District Congressman John Hostettler, Matt Hostettler, easily won the nomination.  Currently no Democrat is in that race for the fall. The district covers parts of Knox, Pike, Gibson, Posey and Vandeburgh Counties.