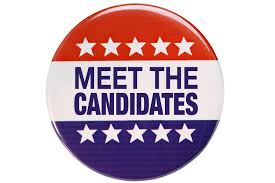 About 60 people turned out to hear what 9 office seekers had to say on a Meet the Candidate night.
                The Daviess County Chamber of Commerce sponsored the event attended by several Daviess County primary election candidates and 3 running for statehouse seats.
        Daviess County Chamber Director Samantha Bobbitt says it was a good night for candidates and voters…
        The candidates all gave a short speech and then moved around the room in 10 minute increments meeting with six to 10 people per table. They addressed questions and concerns and took comments from voters about county budgets, economic development, crime and school funding while making their pitch on why they are seeking and or wanting to remain in office.
        The candidates attending last night included Republicans Gary Allison and Troy Fuhs for Sheriff, Dan Myers and Mike Myers running for County Council District 3, Tony Duncheon and Kristin Miles running for County Council District 2.  Also Republican State Representative District 63 Representative Shane Lindauer was there.  Democrat Candidate for District 63 Joe Lannan and Democrat Candidate for State Representative District 62 Amy Swain also spoke and met with the crowd.
MEET CANDIDATE 2