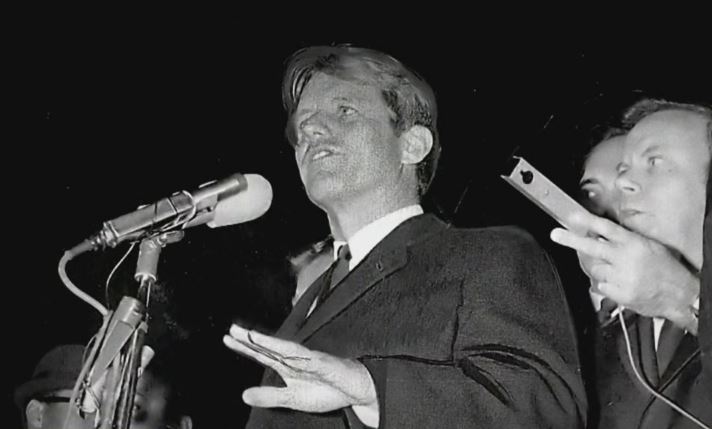 (NETWORK IN)  On April 3, 1968 Martin Luther King was in Memphis to support black sanitation workers, who had been on strike for a month. He had threats, including a bomb threat to his plane.
"Like anybody I would like to live a long life. Longevity has its place. But, I'm not concerned about that now. I just want to do God's will," he said in a speech. "I may not get there with you. But, I want you to know tonight that we as a people will get to the promised land."
Then on April 4, the prophetic speech from the day before had true words. King wouldn't get there. He was shot on the balcony of the Lorraine Motel at 6:01 p.m. His last words were to Ben Branch, the musician scheduled to play at an event that night. He asked for "Precious Lord, Take My Hand".
In Indiana, Robert Kennedy was making campaign stops. HE made a speech at Notre Dame and one at Ball State, where spoke to about 10,000 students. Kennedy learned about the shooting before he boarded a plane to Indianapolis. He learned about King's death when the plane landed, and scratched out a speech in the car, on the way to rally at a city park, at 17th and Broadway.
Mayor Richard Lugar and the chief of police urged Kennedy not to stay for the rally or make the speech. He stepped up onto a flat bed truck and told the people the news, and gave a speech that has inspired millions of people since, and may have kept Indy from burning.
If you were alive in 1968, you'd probably have seen the news about riots around the country, like the Watts riots of 1965 or the Detroit riots in 1967. They were responses to intense situations and often ended with gutted buildings, people dead and hurt and cities wounded.
But, Kennedy's speech in Indianapolis may have been what kept people from burning buildings and tearing through the streets.
"In this difficult time for the United States, it's perhaps well to ask what kind of a nation bwe are and what direction we want to move in," said Kennedy. "For those of you who are black, considering the evidence evidently is that there are white people who were responsible, you can be filled with bitterness and hatred and a desire for revenge."
"Or we can make an effort as Martin Luther King did, to understand and to comprehend and replace that violence, that stain of bloodshed that has spread across our land, with an effort to understand, compassion and love," said Kennedy.
"What we need in the United States is not division. What we need in the United States is not hatred. What we need in the United States is not violence and lawlessness, but is love and wisdom and compassion for one another."
"These words will forever mark Sen. Kennedy's grave in Arlington Nationa Cemetery," said Sen. Todd Young (R), on the U.S. Senate floor, in an effort to get passed the Kennedy-King Park Establishment Act, which established the Kennedy-King National Commemorative Site, and made it part of the U.S. Civil Rights Network.
It could eventually add the site to the National Park System.
"Robert Kennedy's calm voice of reason changed the hearts and minds of people who were feeling so much pain," said Rep. Andre Carson (D). "Indianapolis was the only major city in America that did not burn in that season of pain and violent disruption."
Kennedy would also be the victim of an assassin, just months later, days after winning the Indiana primary. His legacy in the Hoosier State is one of appreciation.
In Indiana, Bobby Kennedy said it much as MLK did. Love and peace and true equality is the way. They both spoke of a brotherhood of man that may never be fully realized. But people with vision, like Kennedy and King, keep the dream alive and keep the spirit of lovers of peace alive, "by the awful Grace of God".