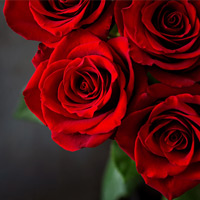 Margaret Rose (Borho) Mathies, 80, of Loogootee, passed away at 2:15 a.m. Saturday, March 10, 2018 at Parkview Village.
She was born October 19, 1937 in Spencer County, Indiana to the late Alois and Anna (Fischer) Borho.
On January 9, 1960, Margaret married Delmar Mathies in St. Meinrad Archabbey Church. She attended St. Meinrad grade school and then attended Ferdinand Academy, an all-girls boarding school. After graduation she worked as a nursing assistant for the summer. She then went to  Indianapolis and became a practical nurse upon which she was employed at Jasper Hospital until she left the medical field to stay home and raise her children.
She was a member of St. John the Evangelist Catholic Church.
Margaret was preceded in death by her parents, Alois and Anna (Fischer) Borho; siblings, Ray (Edna) Borho, Maurice Borho, Mary Ann (Alysious) Wollenmann, and Dorothy (Beryl) Arvin; brother-in-law, Leander Wollenmann.
She is survived by her husband, Delmar Mathies of Loogootee; children, David Mathies of Indianapolis, Kevin Mathies of Loogootee, Kathy (Mike) Miller of Cannelton, Diane Mariutto (fiancé, Bill Nelson) of Indianapolis, George Mathies (friend, Rhonda Hawkins) and Brian (Sherri) Mathies, both of Loogootee; grandchildren, Lucas Mathies, Matthew and Meghan Mathies, Elisa and Michael Miller, Anna, Alison and Kelli Mariutto, Jen (Rudy) Riva, Joe (Mo) Nelson, Samm (Tom) Nelson, Ari Gomez, Jacob Mathers and Eli (Natalie) Mathers; great-grandchildren, Jeffrey and Nikki Riva; siblings, Betty Wollenmann of Ferdinand and Norman (Sandra) Borho of Tell City.
A Mass of Christian Burial will be celebrated by Very Rev. J. Kenneth Walker at 10:00 a.m. Wednesday, March 14, 2018 at St. John the Evangelist Catholic Church in Loogootee. Burial will follow in St. Mary's Barr Township Catholic Cemetery.
Visitation will be held Tuesday, March 13, 2018 from 4:00 p.m. to 8:00 p.m. at Blake Funeral Home.
In lieu of flowers memorial contributions may be made to the American Cancer Society.
Condolences may be made online at www.blakefuneralhomes.com.
Arrangements were provided by Blake Funeral Home in Loogootee.