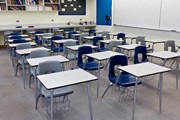 (AP) — A new bill aims to remedy Indiana's teaching shortage by allowing the state's public schools to fill up to 10 percent of their teaching staff with unlicensed teachers.
The bill has passed the Senate 35-12 and has cleared the House 66-29. The bill comes as Indiana legislators face a March 14 adjournment deadline for this year's session.
The Indianapolis Star reports the decision to hire unlicensed teachers would still be left up to superintendents and local school boards. The bill wouldn't require districts to hire unlicensed teachers, but does give them the option.
Republican Rep. Bob Behning says there are many students who graduate with high grade point averages, but can't pass the content area exams. He says the bill "is trying to deal with that in several ways."
___