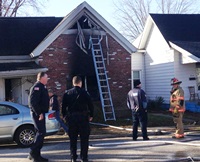 Flames were shooting from a home on West Main when firemen arrived this morning.
          Washington Fire Chief Dave Rhodes says his department was called out about 9:10 am…
          The home is occupied by Steve Morris.  There were no injuries and the chief said the cause will be ruled as accidental due to an electrical problem.