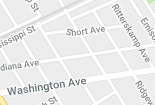 The Washington Avenue project in Vincennes received a big boost with the announcement of the city getting a grant.
        Vincennes Mayor Joe Yochum says his city has been awarded over $5.3 million toward the reconstruction of one of the main thoroughfares through Indiana's First City.
        The plan is to rebuild Washington Avenue from Emison to Belle Crossing. There'll be a new roadbed constructed, along with new curbs and gutters, bike lanes, sidewalks, a new storm sewer and lighting.  The city will match the 5.3 million with 20 % from the city's Economic Development Tax Fund.  Total price of the reconstruction will be around $6.7 million.
        Design will start later this year and construction won't start until summer 2021.