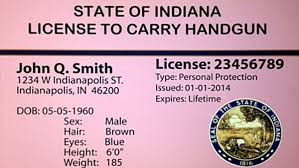 (AP) — A Senate panel advanced a proposal to eliminate lifetime handgun license fees, but not before Democrats voiced concerns about loosening gun laws in the wake of recent events.
The bill previously sailed through the House.  But Democratic Sen. Tim Lanane of Anderson says "everything has changed" since Florida.
Law enforcement groups have raised concerns about the bill because it would eliminate a stream of funding provided by handgun permit fees that they use for training, including mass shooting drills.
Lawmakers have pledged to backfill that money in next year's budget. They have also delayed the elimination of the fee until 2019.
The Senate Judiciary Committee voted 7-3 in favor of the bill on Wednesday.
The Committee vote was scheduled before the Florida tragedy.